Isabgol Husk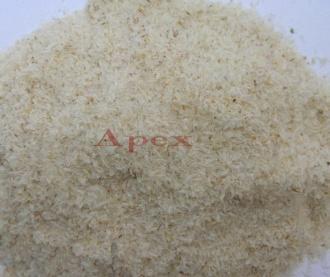 Isabgol Husk
Price And Quantity
Product Specifications
Natural Psyllium Husk

Granule
Product Description
We are a leading exporter and suppliers from India. Our Isabgol Husk is high on demand among the clients across the world. The husk of Isabgol is actually a cover /coating of mucilage around the seed which is being removed through compressive grinding & winnowing process. It is one of the best dietary fiber used in many supplements as well as food products. We procure selected Isabgol Seeds from the farmers, thus we assure to provide good volume and min ash content in our Isabgol. We offer at market leading rates to valued clients.
FAQ:
Q. What is Isabgol Husk?
Ans: Isabgol husk is the outer covering of the seeds of the Plantago ovata plant. It is rich in soluble fiber and is commonly used as a dietary supplement.
Q. What is Isabgol Used For?
Ans: Isabgol is primarily used to treat constipation and promote regular bowel movements. It is also used to manage diarrhea, irritable bowel syndrome (IBS), and other digestive issues.
Q. How Does Isabgol Work?
Ans: Isabgol absorbs water and forms a gel-like substance in the digestive tract. This gel softens stool, making it easier to pass. It can also help regulate bowel movements by adding bulk to the stool.
Q. How Should I Take Isabgol Husk?
Ans: Isabgol is typically mixed with water or a non-acidic liquid and consumed immediately. Follow the dosage instructions on the product packaging or as recommended by a healthcare professional.
Q. Is Isabgol Safe for Daily Use?
Ans: Isabgol is generally safe for daily use when taken as directed. However, it's essential to drink plenty of water when using isabgol to prevent dehydration. Overuse or excessive consumption without sufficient water can lead to blockages.
Q. Are There Any Side Effects?
Ans: Some people may experience bloating, gas, or abdominal discomfort when using isabgol. These side effects are usually mild and temporary. If you experience severe or prolonged side effects, consult a healthcare provider.
Q. Can Isabgol Help with Weight Loss?
Ans: Isabgol may promote a feeling of fullness, which can help some individuals manage their appetite and reduce calorie intake. However, it is not a guaranteed weight loss solution and should be used as part of a balanced diet and exercise regimen.
Q. Is Isabgol Safe for Pregnant or Nursing Women?
Ans: Pregnant or nursing women should consult a healthcare professional before using isabgol husk as a supplement. It is essential to ensure it is safe for both the mother and the baby.
Q. Can Isabgol Interact with Medications?
Ans: Isabgol can interfere with the absorption of certain medications. If you are taking prescription medications, it's advisable to take them at least 2 hours before or after consuming isabgol to avoid potential interactions.
Q. Where Can I Buy Isabgol Husk?
Ans: Isabgol husk is available over-the-counter at most pharmacies and health food stores in various forms, including powder and capsules.
Q. Can Isabgol Be Used for Lowering Cholesterol?
Ans: Some research suggests that isabgol may help lower cholesterol levels when used as part of a heart-healthy diet. However, it should not be used as a sole treatment for high cholesterol, and you should consult a healthcare provider for guidance on managing cholesterol levels.
Trade Information
Mumbai

Letter of Credit at Sight (Sight L/C) Delivery Point (DP) Telegraphic Transfer (T/T)
Yes

Free samples available with shipping and taxes paid by the buyer
Bags

South America Eastern Europe Western Europe Middle East Central America Asia North America